Conference Exhibitor | Exposant à la Conférence: RDÉE Canada
---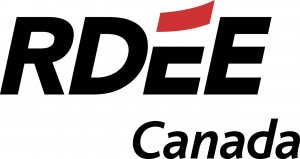 Le Réseau de développement économique et d'employabilité (RDÉE Canada) est au service du développement économique des communautés francophones et acadienne du Canada afin que celles-ci participent activement à la croissance économique du Canada.
Organisme national à but non-lucratif, il est présent dans toutes les provinces et tous les territoires par le biais des organismes provinciaux ou territoriaux.
Ensemble, ils forment le Réseau national qui soutient deux axes essentiels de l'économie canadienne : le développement des affaires (entrepreneuriat francophone) et l'employabilité de la main-d'œuvre francophone qualifiée.
Comme chef de fil, le RDÉE Canada
• Positionne son réseau dans les dialogues de politique publique et le choix de priorités gouvernementales et ministérielles.
• Entretient des relations stratégiques et des partenariats durables.
• Soutient le leadership et l'innovation.
• Fait la promotion des pratiques exemplaires et de l'apprentissage continu.
• Mène des recherches et en communique les résultats.
• Célèbre et communique les histoires à succès.
*******
RDÉE Canada (Réseau de développement économique et d'employabilité) promotes the economic development of the Francophone and Acadian communities (FACs) in Canada so that they are actively involved in Canada's economic growth.
This not-for-profit organization maintains a presence in every province and territory (except Quebec) via provincial and territorial organizations.
Together, they form the national Network and support two main areas of the Canadian economy: business development (francophone entrepreneurship) and employability of francophone skilled workers.
As a leader, RDÉE Canada:
• Positions the Network in discussions about public policy and determining government and ministerial priorities.
• Maintains strategic linkages and sustainable partnerships.
• Supports leadership and innovation.
• Promotes best practices and continuous learning.
• Conducts research and reports on the findings.
• Celebrates and shares success stories.