An RSC Policy Briefing
---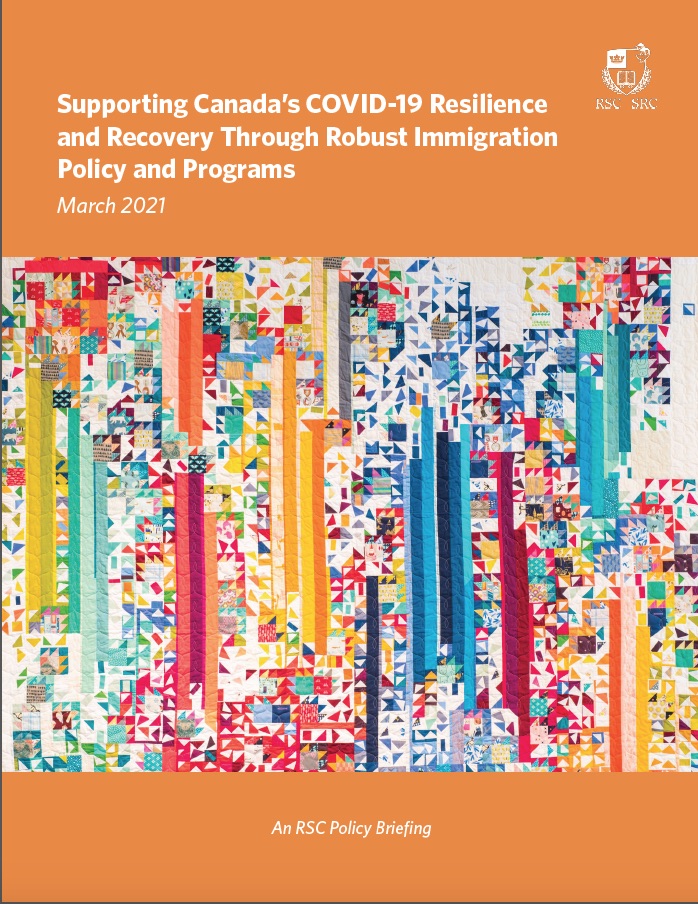 Canada has been seen globally as a leader in immigration and integration policies and programs, and as an attractive and welcoming country for immigrants, refugees, temporary foreign workers, and international students. The COVID-19 pandemic has revealed some of the strengths of Canada's immigration system, as well as some of the fault lines that have been developing over the last few years. In this briefing, members of the Pathways to Prosperity Partnership provide an overview of Canada's immigration system prior to the pandemic, discuss the system's weaknesses and vulnerabilities revealed by the pandemic, and explore a post-COVID-19 immigration vision. Over the next three years, the Government of Canada intends to bring over 1.2 million new permanent residents to Canada. In addition, Canada will continue to accept many international students, refugee claimants, and temporary foreign workers for temporary residence here. The importance of immigration for Canada will continue to grow and be an integral component of the country's post-COVID-19 recovery. To succeed, it is essential to take stock, to re-evaluate Canada's immigration and integration policies and programs, and to expand Canada's global leadership in this area. The authors offer insights and over 80 recommendations to reinvigorate and optimize Canada's immigration program over the next decade and beyond.
Read More »
Virtual Workshop Series
---
Due to the large number of high-quality workshops submitted for presentation at the P2P 2020 National Conference, we have launched the new Pathways to Prosperity Virtual Workshop Series commencing in mid-January 2021. The series includes up to two virtual workshops a week over the course of several months on Tuesdays and Thursdays at 1:00 – 2:15 PM EST. The workshops take place on the same conference platform as was used for the P2P 2020 National Conference, with poster presentations, exhibitors, and networking functions still available, as well as videos from all plenaries and workshops. Full details of the workshop series are now available on the conference website.
The series is being offered at no cost to conference registrants and for a small fee to those who did not register for the Pathways to Prosperity 2020 National Conference. Registration for those who did not participate in the P2P 2020 National Conference but would like to attend the workshops is available here.
---
Tuesday, April 13 at 1:00 PM EDT
Emerging Practices in Settlement Service Delivery: A Hybrid Model to Respond to Newcomer Needs
Thursday, April 15 at 1:00 PM EDT
LINC and ELT: Pathways to Online Service Delivery during the COVID-19 Pandemic
Schedule: Virtual Workshop Series
Latest Media Stories
---
Manitoba gained 8,628 immigrants in 2020, according to the provincial budget published Wednesday. That's a 54-per-cent drop from 2019, when the province gained 18,921 immigrants. The drop is a direct result of "travel restrictions aimed at reducing the spread of COVID-19," as well as pandemic-related health and safety measures that "impacted processing times for... Read more »
---
Ontario will start offering COVID-19 vaccines to migrant farm workers arriving at Toronto's international airport through a pilot project this weekend, the Canadian Press has learned. A spokesman for the Ministry of Agriculture, Food and Rural Affairs says the pilot will begin early Saturday morning, offering shots to 200 workers... Read more »
---
Yohan Flaman, 39, said he was flabbergasted when he failed, in his first attempt at the immigration test, to prove proficiency in his own mother tongue. "Voila, I flunked, I flunked my test. It happens to everyone, to flunk a test," he told CTV News. "But I'm sure that for... Read more »