Register Now
---
Exploring Innovation in Immigration and Settlement in Canada: Challenges and Opportunities of New Geographies, Modes, and Levels of Immigration
November 19, 2023: Gender-Based Violence Response Forum
(In Person)
November 20 – 21, 2023: P2P 2023 National Conference
(In Person and Virtual)
November 22, 2023: P2P Conference for Local Immigration Partnerships and Réseaux en immigration francophone
(In Person and Virtual)
November 23, 2023: National LIP Network Summit
(In Person)
Le Centre Sheraton Hotel, Montreal
Pathways to Prosperity will be holding its 11th Annual National Conference at Le Centre Sheraton Hotel in Montreal on November 20 – 22, 2023. A virtual option will also be available on these dates.
Many changes have occurred in Canada's immigration system in the last few years, particularly the drive for regionalization of immigration outside of the traditional immigrant-receiving metropolises; new modes of immigration, including the increasing transition of temporary residents to permanent residents; and the record-breaking number of immigrants being accepted into Canada each year. These changes pose challenges but also exciting opportunities for new ideas and innovation in immigration and settlement policies, programs, and practices.
The 2023 Pathways to Prosperity National Conference will explore the changes occurring and potential innovations in response to these changes. In this way, we can all contribute to planning for the future of immigration to Canada. In addition, through presentations and discussion, attendees will be equipped with new ideas and innovative program solutions to support the IRCC 2024 Call for Proposals for the Settlement and Resettlement Assistance Programs. It will be an opportunity to learn from others, share expertise and experiences, and expand networks. To be inclusive, we will be providing simultaneous interpretation for the keynote speaker and plenary sessions (both in person and virtually).
Read More »
Welcoming Communities Toolkits
---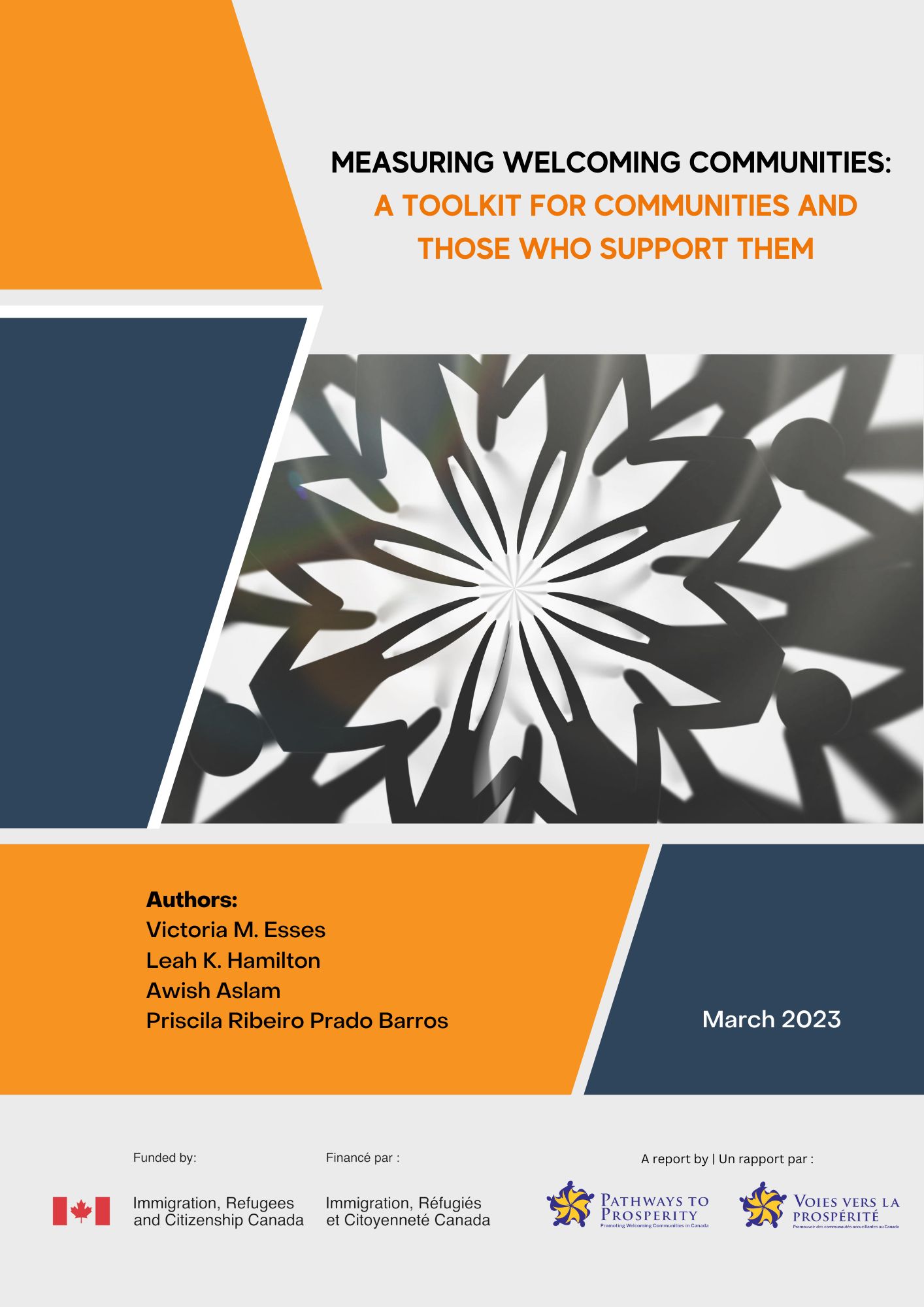 Canada is in the midst of one of the largest intakes of immigrants in its 155-year history as our government looks to rebuild our economy and labour force following COVID-related disruptions. Although it is a country well known for its cultural makeup and diversity, a dedicated understanding and plan for supporting the settlement and integration of newcomers in communities of all sizes is imperative to the success of Canada's immigration program.Pathways to Prosperity (P2P) has taken steps to aid in this transition with the development of the Welcoming Communities Toolkits. These toolkits have been developed based on P2P's 2010 report "Characteristics of a Welcoming Community," but have also taken into account newer research that more aptly speaks to the current world we live in and provides practical tools that interested parties can use to engage and set their communities on the road to becoming more welcoming.Two toolkits are being developed: the Measuring Welcoming Communities Toolkit, now released, and the Promoting Welcoming Communities Toolkit, to be released later in 2023. While they are two separate toolkits, they are being built to work in tandem.
Read More »
Latest Media Stories
---
The federal government says it will provide Peel Region with $7 million to help it open a new reception centre near Toronto's Pearson International Airport for asylum seekers. Kamal Khera, Minister of Diversity, Inclusion and Persons with Disabilities, told reporters in Brampton on Friday that the centre will provide "streamlined" support and services... Read more »
---
Canada's immigration minister says the federal government has offered $5 million to help the City of Toronto open the Better Living Centre at Exhibition Place to create spaces for asylum seekers this winter. "No one should be left outside in dangerously cold weather," Marc Miller said in a post on... Read more »
---
International students and advocacy groups in Canada say Ottawa's temporary removal of the cap on hours the students can work off campus each week should be made permanent. Last year, the federal government removed the ceiling of 20 hours of off-campus work per week while classes are in session. The... Read more »